July 2000 - Tech Tip Supplement
Mechanical Advantage Quiz
Important: This is not meant to replace hands-on instruction, nor to replace the need for hands-on practice.
Below is a good figure (from Petzl) for an exercise on basic hauling systems.
This is a basic crevasse rescue system, but not the Z-pulley everyone memorizes. Do you know if this is simple, compound, or complex? Can you quickly determine the ideal mechanical advantage? And in the interest of looking ahead for possible complications - what could you do if this was implemented and you did not have enough advantage?
If you've taken a good class on this stuff you now have an opportunity to review your notes and knowledge. If you haven't and you think you've got the right answers send me e-mail if you'd like and I'll let you know! (The last question doesn't necessarily have a single right answer. There are options with pros and cons, of course.)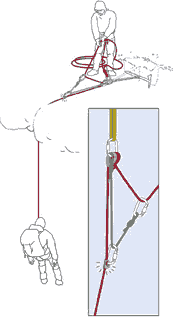 "Safety is a marriage of solid technical skills and creative imagination." (Petzl website)
Learning to think analytically as opposed to memorizing. That is the basis for the self-rescue series I've developed, and it is a good principle to follow in general. The basic tools in the toolbox for most climbing situations are simple and easily learned. Choosing the right tools and the best combination of them takes more thinking.
(Note: the Kong "Climbing 2000" catalog has plenty more systems to play this game with, but only in print and not online. You might be able to look at a copy in your local shop. The "Mezzo Poldo" system on p 125 is a good one to examine.)

| | | |
| --- | --- | --- |
| Guiding page | | Climbing page |